Family History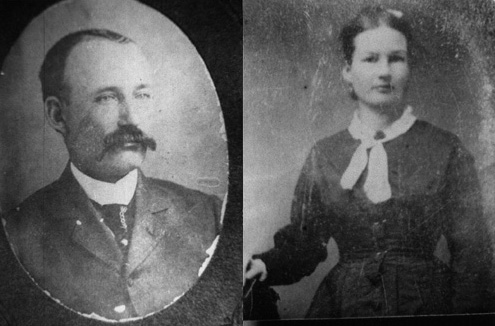 The picture above is John Francis Bowen and Sarah Elizabeth "Sadie" Dalton. John was the son of James M and Mary Ann Bowen. John was born on 4 Feb 1858 in Clarksdale, DeKalb, Missouri. Sarah is the daughter of Richmond and Prudence Dalton. She was born 1 Mar 1860 in Clarksdale. They were married on 19 Nov 1879 and raised their family in Clarksdale. They had at least 9 children. The children were Claude Milford, Andrew Jackson, Earl Thomas, Orval Dockrey, Thurman, Blanche, Edward, Martha and Harry. When Sarah died on 12 Jun 1900, seven of the children were under the age twelve. Shortly after Sarah's death John left them and the children went to stay with other members of the Bowen or Dalton family.
Blanche Brandow Bowen was born 4 Mar 1890 in Clarksdale, DeKalb Co Missouri. She was the fifth child for John and Sarah. These are the words of Blanche from some handwritten notes (A Gift of Memories from Grandma) during an interview in May 1983.
"I think it was my mother's sister Aunt Ellanora Rose and Uncle Wheeler Rose where I lived after my mother passed away. They were always very kind to me and I was happy. What was your wedding like? When and where was it? We were married at my aunts home in the evening of Oct 30, 1912. My aunt served ouster soup. His family and my Uncle Frank and Aunt Cora Long were the only ones there except the minister Mr Wilson. Did your parents ever ground you? What for? No, they did not. I lost my mother by death when I was ten years old, then was with Grandmother for 1 year."
She went to her grandmother Polly Ann Means Bowen and lived for about a year. She started dating when she was 13 years old. She states "on her first date, this boy asked me to go with him to a play party, think it was someones birthday party. His name was Elmer Oliver. A nice boy!" She also remembered the boy named Glen Wilson the most, he had a beautiful team and nice buggy. She went sledding with brothers and roller skating at rink in Virgil, Kansas.
This link provides details of the Richmond Dalton family
This link provides details of the Thomas Dalton family - brother of Sarah
Blanche first husband was George William Baumgardner BORN: 4 Mar 1890 in Gridley, Virgil county Ks; MARRIED: 30 Oct 1912 in Gridley: DIED: 30 Apr 1930 in Cottonwood Falls, Ks. (Parents were George Lincoln and Eliza Jane Dean). They had four children - Glenn Melford (nickname Bummy); Gene Lynn; Ione Yvonne (nickname Bonnie) and Pearl Nadine Baumgardner
Below is picture (left to right) of Glen (first son of George and Blanche), George and Gene (2nd son).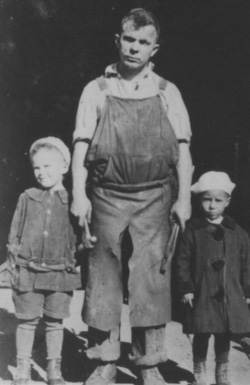 Below is picture of Blanche with 2nd husband Cyrus Horace "Cy" Wadsworth. He was born 4 Mar 1890 and died 17 Dec 1946. They were married 19 Oct 1935. They had no children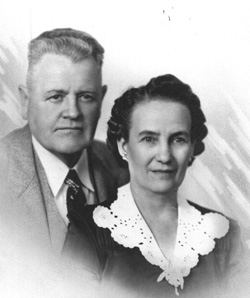 Below is Earl Tim Miser, 3rd husband of Blanche. He was born 22 Sept 1886, married 1 Nov 1959 and died 25 June 1969.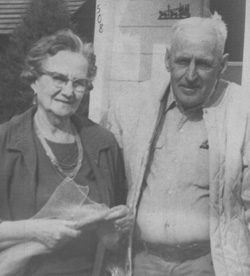 This is grandmother Blanche. All information and pictures furnished by her Granddaughter Barbara Ann Chidester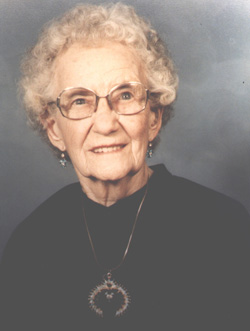 bchidest@husky-net.net