Cooper/Applegate Family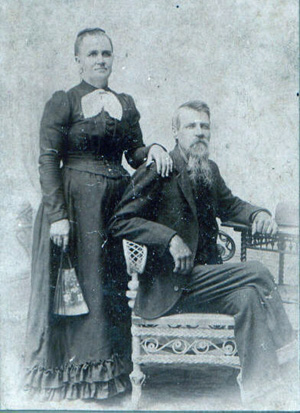 This page includes history of the Cooper and Applegate family. Above is Charity Applegate Cooper and husband Jeremiah Cooper. She was born Oct 14, 1847 in Greenup, Ky. She was one of nine children. Her parents were Andrew Applegate and Sarah Brand who were married on 20 Sep 1827 in Scioto county, Ohio. Jeremiah was born 3 Mar 1844 in Scioto Ohio. His parents were William D (Bunk) Cooper, born 1819 and Minerva Piatt Boldman. They were married 28 Nov 1839. Jeremiah's grandfather name was also Jeremiah born 18 Oct 1781 and grandmother was Mary. They were married in 1818 also in Scioto county, Ohio.

Jeremiah and Charity were married on 28 Oct 1865. They had nine children. Their names were James (born Jul 8, 71), Jacob (born Jan 28, 73), Frank (born Nov 2, 78), Sarah Jane (born Jan 9,81)(married Lindeman), May (born Jun 11,84) (married Oliver), Alka (born Feb 4, 87), Rose (born Nov 6, 87), Andy (born Sept 24, 89), Katherine (Katie) (born June 20,91)(married Wells).

Jeremiah and Charity are buried in Henley, Ohio off St Rt 73 in Scioto County. This link shows Applegate geneology - go to Bartholomew and trace to 1D3C1A1H

Jeremiah was a Private in the civil war. He was in Company B 22nd Ohio Infantry. He enrolled on 29 Febuary, 1864 at Burna Vista Ohio for three years. He entered his unit March 2nd, 1864. In Aug of 64 he was in the hospital at Little rock, Arkansas with Measles and lung complications for 10 weeks. He was not expected to live but he survived and mustured out Aug 28, 1865 at Little Rock. After he got out in 1884 he qualified for a partial disability as a result of his war sickness.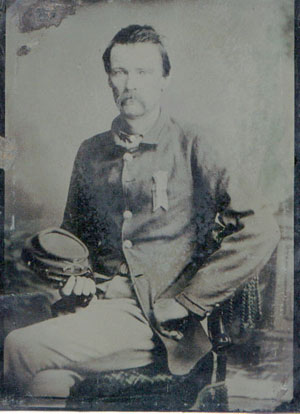 This link shows history of his Regiment.
(Little Rock campaign)